18.04.17
A Tip for a Student: How to Get Rid of Plagiarism
In this article we want to cast some light on the problem of plagiarism, and tell how to increase the percentage of text originality. Here, we want to destroy some myths about popular methods on finding a way around some antiplagiarism programs as well as offer some tips on how to change a plagiarized work.
At first, let's brighten the essence of students plagiarism up. Everyone is familiar with a situation when one paper is handed to correction and another is rejected by a professor. Usually a professor considers your paper plagiarized when you borrow some fragments from different resources and works of other authors. For example, often students, literally, copy the whole text fragments from a diploma, dissertation, paper or a book.
Nowadays, all schools, I guess, with a few exceptions use antiplagiarism software, because students continue to create new ways to plagiarize. We must admit that algorithms of plagiarism detection programs improve all the time. That's the reason why popular answers to a question how to plagiarize without any consequences do not work anymore. For example, a modern antiplagiarism software knows how to detect swapping words and paragraphs, replacing words with synonyms, and symbols exchanging.
We need to mention that plagiarism doesn't appear only when a student cheats on purpose, it can happen unintentionally. You can simply borrow some ideas from books that you have read during the prep period without even noticing it. The problem is becoming more relevant, because you can not clear your text from plagiarism only by changing words.

How to remove plagiarism from your work then? There are few options. However, the first step is to make sure that your work is checked by an antiplagiarism program. If you see that it contains some plagiarized fragments, then the only way to increase the originality of your paper is to rework it. Then you need to rewrite, rephrase these particular fragments, and check again. If a program still shows a low level of originality, there is only one option is to replace these fragments with your own thoughts.
The best way to simplify your work during writing a paper is to check it on plagiarism after every single section. By doing so, you'll help yourself to avoid double-work, because you won't need to rewrite the whole text after checking it by the software. This small tip will definitely prevent your work from being plagiarized.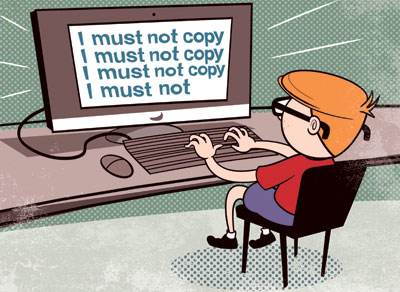 Another important thing that students often forget while trying to cheat is that a professor is a real professional in his field. That's why it would not be so challenging for him/her to identify fragments in a paper that you've borrowed from resources different from your own knowledge. After even a few years of teaching experience it's not a big deal for a person to see plagiarism in a work.
Of course, it's up to you which methods to use during the prep or writing a work. However, do not try to avoid modern technologies that can help you to succeed in your specialization.
Comments
11.25.2018 16:33,jeremy:
hey
09.25.2019 21:12,hi:
i still dont know how to get rid of it