19.06.20
Tips for Students to Avoid Plagiarism
Your school professor has called you for something you never saw coming. The reason is… instead of making your assignment, you have copied most of it. The issue of plagiarism is one of many schools (and students) are grappling with.
In this article, we want to cast some light on the problem of plagiarism and reveal ways to improve text originality. Here, we want to debunk a common myth surrounding anti-plagiarism software, as well as share some tips on how to change a plagiarized work.
What is Plagiarism
But first things first, what is plagiarism? As a student, plagiarism is something you are most likely familiar with. Usually, a professor considers your paper plagiarized when you borrow some fragments from different resources and other authors' works. Often students copy the whole text fragments from a diploma, dissertation, paper, a book, or online material and present it as your original work – that is, without quoting or crediting the source.
Being a student, you know about plagiarism and the impact that follows once you are caught. It is the most heinous kind of crime in the academic world. You risk failing the assignment and, worse, still being expelled from school. That is a frightening prospect for any student, hence the need to ensure you always turn in original work. And for those occasions that you do paraphrase or summarize another source, to make sure you give credit where it's due, literally speaking.
We need to mention that plagiarism does not appear only when a student cheats on purpose; it can happen unintentionally. You can simply borrow some ideas from books that you have read during the prep period without even noticing it. The problem is becoming more relevant because you can not clear your text from plagiarism only by changing words. You do not necessarily write it word-for-word, and herein lies the tricky part. The mere act of changing the words while relaying the same points as the original could be considered plagiarism and might not cut it among some professors.
Research
Rutgers Business School Professor Donald L. McCabe - 'Founding father' of research on academic integrity and the author of the book "Cheating in College" has surveyed in his book and uncovered the trends over the past 12 years.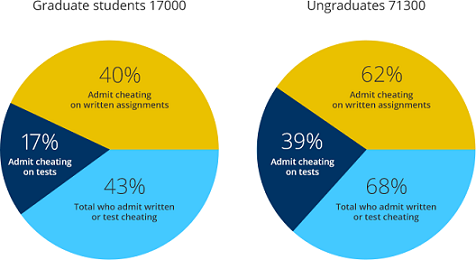 McCabe's surveys of over 70,000 high school students at over 24 high schools in the United States demonstrated that 64 percent of students admitted to cheating on a test and 58 percent admitted to plagiarism. Totally 95 percent said they participated in some form of cheating, whether it was on a test, plagiarism or copying homework.
Great Variety of Plagiarism Checkers
Nowadays, all schools use anti-plagiarism software because students continue to develop new ways to plagiarize. We must admit that algorithms of plagiarism detection programs improve all the time. While students continue to create new ways to get away from plagiarism, software continues to be updated, and chances of getting away are very slim. That's the reason why popular answers to a question about how to plagiarize without any consequences do not work anymore. For example, a modern antiplagiarism software knows how to detect swapping words and paragraphs, replacing words with synonyms, and symbols exchanging. Students sometimes copy and paste a huge chunk of material into a research paper and purposely fail to credit the source.
There are a lot of antiplagiarism software that automatically detect any fragment of copied work such as PlagiarismCheck.org, PlagScan, QueText, Antiplagiarism, etc. Let me go over their main options.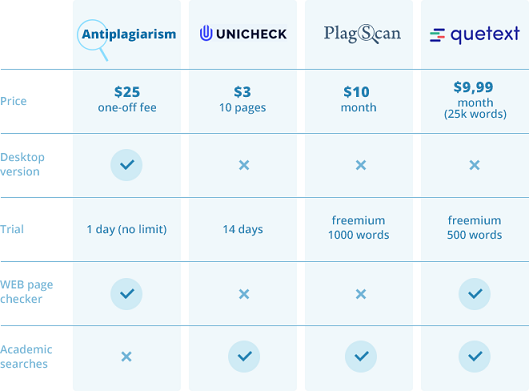 Searching the best software if you aim to combine privacy issues and low cost, be sure that Antiplagiarism.net meets these requirements. This high-quality software checks plagiarism using its own plagiarism program sources as well as lots of internet sources to compare with. The checker finds not only fully similar texts but also detects separate coincidences of long phrases or parts of the sentences.
Tips to Help Students to Avoid Plagiarism
How to remove plagiarism from your work then? Below we share a few tips you might find handy when you want to submit unique research papers free of plagiarism.
Sometimes all you need is to know the requirements. Your professor may have some guidelines on how the paper should be done. Ask before attempting the research paper to be sure that you are conforming to the special instructions.
One way to avoid plagiarism is to restate the reference work in your own words. Never copy and paste fragments of the original work. Also, ensure that you do not copy word for word more than two words in a row from the source.Understand the ideas of your reference to paraphrase correctly.
Quotations are the exact words borrowed from your source and very different from paraphrasing. When you consider to include a different idea to your work, you should paste it as a quote. In this way you will show your preparation and material learning level. It doesn't take so much of your time, and you should do it as you write it down. However, most institutions block quotes consist of more than 40 words; therefore, restrain from using block quotes.
You can also prevent plagiarism by including a page of works cited at the bottom of your research paper. Ensure that this page meets the document formatting guidelines required by your professor.
Use plagiarism detection tools to see how much of your paper is plagiarized if there are any. If you see that it contains some plagiarized fragments, then the only way to increase the originality of your paper is to rework it. Then you need to rewrite, rephrase these particular fragments, and check again. If a program still shows a low level of originality, there is only one option - to replace these fragments with your thoughts.
The best way to simplify your work while writing a paper is to check it to plagiarism after every single section. In this way, you help yourself to avoid double-work because you don't need to rewrite the whole text after checking it by the software. This small tip will prevent your work from being plagiarized.
You can find everything on the internet. You can always borrow ideas for your research paper. A good student, however, tries to add value to the topic by providing some insights. When you conduct proper research and thoroughly understand the subject, providing your insights become very easy. Just think about the idea you found, feel it by your mind and be sure you will create better work in your way, and it will be unique. And think about the day when somebody can plagiarize your work :)
Conclusion
Plagiarism can be a hard thing to avoid when doing your research paper. Of course, it's up to you what methods to use during the prep or writing work.
By following these simple tips you can drastically minimize your chances of falling prey to plagiarism. Make it a habit of yours to always edit, proofread, and check your work for plagiarism before submitting the same to your professor. When you reflect your hard work in the document you will never have to worry about losing your academic degree as a result of plagiarism. Use technologies that can help you to succeed in your specialization.
Comments
11.25.2018 16:33,jeremy:
hey
09.25.2019 21:12,hi:
i still dont know how to get rid of it
04.25.2020 05:42,faddii:
dont know how to check it